Published
NEWS: Workforce Solutions Deep East Texas honors MTC Diboll Correctional Center as 2019 Veteran-Friendly Employer of the Year
November 20, 2019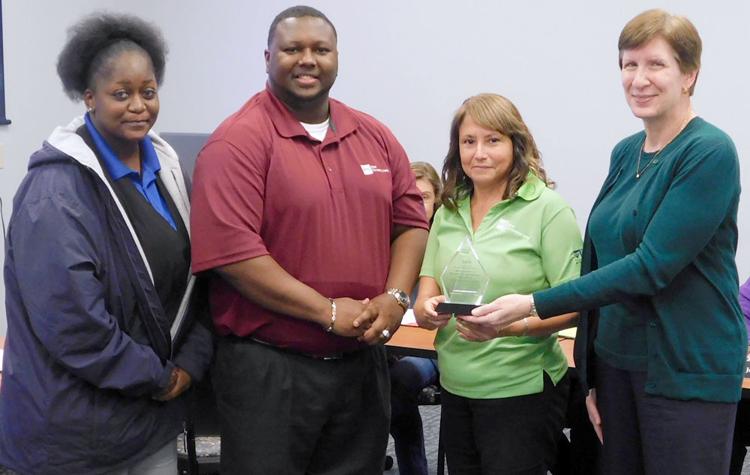 Management & Training Corporation/Diboll Correctional Center was recognized by the Deep East Texas Local Workforce Development Board as the 2019 Deep East Texas Veteran-Friendly Employer of the Year on Nov. 13.
"The Workforce Board is pleased to honor MTC Diboll Correctional Center, whose efforts to recruit and hire veterans have had a significant impact on veterans in the local workforce development area and across the state," said board chairwoman Lisa Balty as she presented the award to MTC Diboll Correctional Center's Robert Fields, quality assurance manager, Felicia Land, correctional officer, and Cindy Springs, executive secretary. Fields and Land are veterans.
MTC Diboll Correctional Center employs about 20 veterans or 19% of its employee population. The center works with the local veteran representatives at the Workforce Solutions Deep East Texas Center and actively recruits veterans who are ready to re-enter the workforce.
The facility also participates in Veteran Appreciation Days, job fairs at the local Veterans of Foreign War Center and the Veteran Affairs Center recruiting veterans for job opportunities.
Veterans already have the basic skill set desired to be a successful correctional officer within the prison system. Basic military skills make up security fundamentals and are rigorously taught to veterans. Discipline and the ability to take responsibility for an area or group of people is something veterans know well and are familiar with.
MTC Diboll Correctional Center appreciates those qualities and helps the military veterans reintegrate into both the civilian workforce and to society in general.
The Texas Workforce Commission is actively seeking to recognize more employers that create opportunities to get veterans back into the workforce.
"We Hire Vets" is a TWC employer recognition program that recognizes Texas employers for their commitment to hiring veterans. Employers whose workforce is composed of at least 10% military veterans are eligible to receive a "We Hire Vets" employer recognition decal to display on their storefront.
Eligible employers also will have an electronic decal to display on their website. Employers interested in participating in the program are encouraged to contact Theresa Maryska by calling 639-1351 or emailing tmaryska@detwork.org.
For more information about assistance for employers seeking qualified applicants for specific jobs and develop custom solutions to strengthen their current workforce, call 639-1351 or visit detwork.org.
About Diboll Correctional Center
Diboll Correctional Center is accredited by the American Correctional Association—
achieving 100% compliance for both mandatory and non-mandatory standards in
its most recent audit. Other accreditations and certifications include the Correctional
Education Association and the Prison Rape Elimination Act (PREA).