Published
NEWS: Sure Helpline honors those who inspire the community
By Katherine Ramos Apr 14, 2019 Update Apr 14, 2019
EL CENTRO – One mother from Mexicali considered committing suicide because she did not have the money needed to recover her mother's body from a hospital in another country. Another woman was attempting to flee from an abusive husband with her children. These are just some of the stories Sure Helpline Crisis Center has experienced throughout its 48 years of service.
To benefit and raise funds for helping others like these who are in crisis, Sure Helpline organized the 6th annual Benefit to Benefit People in Crisis and Victims of Crime Gala Friday, April 12 at Desert Trails RV Park in El Centro.
Director Margaret Sauza said the gala began six years ago as a fundraiser in an effort to raise money for unique situations such as the mother in Mexicali. The crisis center does receive grants, but some of the funds are designated only for certain situations. If out-of-the-ordinary situations ever happen, Sure Helpline needs extra funds in order to help people.
"The money that we get here tonight, we use that for the victims," said Sauza, "That's the kind of things that Sure Helpline does."
It was a night of glitz and glam as community members made their way down a catwalk showing off dresses from Macy's and tuxedos from Al's Tuxedos. Macy's will also be making a money donation to Sure Helpline after the gala, organizers said.
After the fashion show, Sure Helpline gave out the Iron Awards to recognize 15 women and four men for exceptional work in the Imperial community as inspirational leaders. The honors included people from law enforcement agencies and others within the community. Dancing followed for the rest of the evening.
One of the recipients, Rafael Lopez, is a PREA coordinator for Management and Training Corporation (MTC) at the Imperial Regional Detention Facility. Lopez said he is proud and humbled by the honor he received from Sure Helpline, especially since the crisis center has helped so much by training detainees at MTC since it opened in 2014.
"I'm just honored and humbled to be a recipient," said Lopez. "We support them in any which way that we can. Margaret and her staff are just amazing."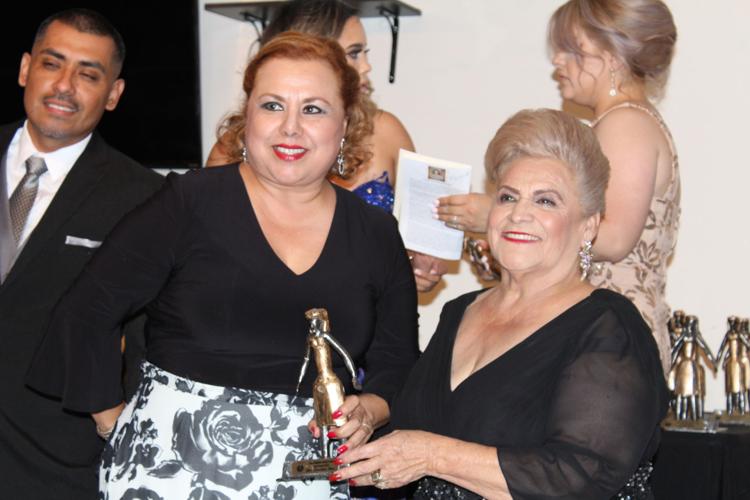 Another recipient, Ken Phillips, is employed with the California Department of Corrections and Rehabilitations as a Resource Manager. He said Sure Helpline has also been working with inmates at the state level to help them get integrated back into society. He sees their work as invaluable to the valley.
"Working in a community that is often seen as without resources, nothing can be farther from the truth," said Phillips. "Our resources are the people. I'm humbled to be with a group of people who do real important things, and I just do what I can."
"I'm just shocked, just because I don't really see myself as an inspirational leader. I'm just happy to be doing my job, because I get to work with the community," said Terraza.
Since the first gala night six years ago, the Benefit to Benefit has grown from just 100 people attending to close to 200 people, and Sauza revealed people now have to be turned away.
"Sure Helpline provides such a vital service for our community, especially when it comes to those who need support — whether it be emotionally, financially, or physically, they really are there to support the people," said Terraza.
Sure Helpline was established 1971 as an organization for those who seek help from abuse, assault and sexual assault, drug and alcohol problems, and mental issues. The organization provides counseling, classes, and provides a safe space for those who need it. If they are unable to provide help onsite, Sure Helpline will point people in the right direction for the help they need. They work with schools to provide information about domestic situations students might be going through as well.
The next event for Sure Helpline Crisis Center is the annual Walk a Mile In Her Shoes march set for April 26 in front of the Imperial County Court House.